Conservation tourism in Botswana gives back to locals – both wildlife and people
If every generation has a story that boasts innovative change, then perhaps ours is about what we are doing to shape the future prosperity of our planet. As the story grows louder, so does the growing number of conscious consumers who have created a new demand for what's valuable and what's not. They are the ones re-shaping just about everything, in terms of what is ethically acceptable, even how they spend their holidays.
As Instagram feeds fill up with landscapes, selfies and predator photos, so too does the list of beautiful conservation-driven hospitality spaces. Natural Selection, which began with the idea that ecotourism can and should play a bigger role in the conservation of wild places, is one of these. Putting their money where their mouth is, the organisation donates 1.5% of their turnover to wildlife conservation and carefully selects projects and partners who are making a real difference.
The Know spoke to Jennifer Lalley, Conservation Director from Natural Selection, who offer a number of incredible, ecologically-aware experiences within the varied landscapes of Botswana.
According to Lalley, it is, in fact, the popularity of Botswana that makes its preservation so important and those who travel with an ecologically aware operator will find that, without even trying, they're putting back more than they're taking away by simply going on safari.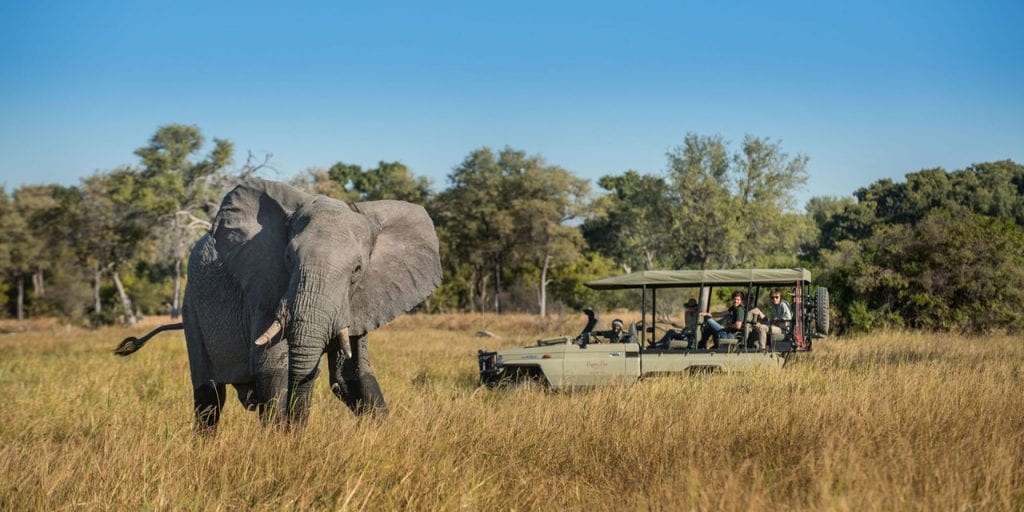 "Take for example Khwai Private Reserve in Botswana's world famous Okavango Delta. This little slice of water-infused heaven teems with animals who are able to live alongside the local communities in harmony. We run just five camps in the reserve ensuring that we tread only very lightly through this magnificent area. These include Sable Alley, a light, bright and beautifully sophisticated slice of luxury, Hyena Pan, her quirky little sister, and the photography-focused The Jackal & Hide, all of which are located right where the wild things are.
The Skybeds offers the opportunity to sleep under the stars atop a 5-metre high platform and in July 2019, guests can look forward to the opening of Tuludi, an intimate tented camp that will become the flagship property of the reserve," says Lalley.
And while Khwai Private Reserve, or KPR as it's affectionately known, might only host five camps, it certainly has a lot going on in terms of conservation.
"For starters, there's a project on which we partner with the Botswana Predator Conservation Trust, the University of New South Wales, and the Okavango Research Institute. The project focuses on habitat use and the communication and movement ecology of leopards. This will have relevance beyond the Khwai area, particularly where leopard movement into livestock areas is problematic," says Lalley.
"Human-predator conflict is inevitably a big concern when communities and wildlife coexist, so we fund several projects to help both the people and animals, like the pilot study, CLAWS (Communities Living Alongside Wildlife Sustainably) which aims to see how communal cattle herding can lessen the vulnerability of cattle to predators.
"It's not only predators who pose a challenge to the local communities, elephants too, can be a problem. Botswana has seen an increase in elephant numbers, which has resulted in elephants raiding agricultural land and even the odd fatal encounter between these giants and pedestrians. To keep people safe on the elephant 'highways' in the northern Delta, we are working alongside EcoExist to put the Natural Selection Ele Shuttle on the road, allowing community members safe travel," says Lalley.
According to Lalley, the herbivores in Khwai Private Reserve are also being carefully surveyed in conjunction with Round River Conservation Studies and the Okavango Research Institute. Researchers have been monitoring the herbivore population throughout the seasons, looking at population sizes and distribution. They're also testing and developing guidelines on efficient surveying techniques that can be broadly implemented across the country.
We're certainly inspired.
There's even a fair deal for African continent locals who love the idea of an eco-aware holiday. Natural Selection has recently launched it's Explorers program where exclusive discounts for all their Botswana lodges have been made available to African residents. Find out more at www.naturalselectionexplorers.co.za.
All this work, and further projects in Khwai as well as in the Makgadikgadi, ensures that Botswana remains a healthy, happy and sustainable place to visit, and we believe that's the best kind of safari destination.
Finally, if you are one of those conscious consumers who believe that sustainability starts at home, you don't want to miss this exquisite off-the-grid example, near Johannesburg . Alternatively, be sure to mention your Green Home requirements to your Pam Golding properties area specialist.