Outstanding photography that accurately represents your home is the second reason a buyer calls your agent. The first reason is an accurate market-related price, say the experts.
It seems obvious that your property's images, which are likely to show up on the internet next to many others in your price range and area, are vitally important, but the truth is that many beautiful homes are let down by below average pictures. So whether you choose to commission a professional or take the images yourself, there are several essential factors you need to know.
Roger Metcalf is a photographer who is passionate about property photography. He believes that every home, regardless of value, is deserving of creative, warm compositions that truthfully engage both the eye and heart. The Know chatted with him to find out how he does this.
Roger, what is uppermost in your mind when you go on site to meet an estate agent?
RM:   Guesthouse owners and real estate consultants often reveal the same level of creativity and EQ as does any competent photographer.  They know that living spaces go beyond ergonomics and geometrical structures and that living spaces are intimate personal affairs. A spirit of mutual respect and co-creativity is what drives successful photographic assignments, and this certainly includes fun!
What's the first thing you look at when you enter a home?
RM: Light! And how to use it. But apart from that, when a photographer first walks through a building, perspectives and compositions leap out and proclaim themselves in ways the owner or agent, may never have realised.
This might involve a distant background scene framed by an arch in the foreground, or a wall mirror reflecting a warm, comfortable room with a mountain view through the opposite window. I also look for details such as unsightly wires hanging behind a dressing table, or anything out of alignment such as folded towels or cushions.
Do you have any tips for those who wish to shoot their own homes?
RM: On a practical level, especially if you're using your cell phone, first clean the lens with a soft cloth. Cell phone cameras are prone to collect finger marks, and this can make an enormous difference between a muddy image and a clean crisp one. Again, lighting is important – always allow maximum light to fill the space, open curtains and shutters and switch on any lights in the room. Shooting exteriors in the bright midday sun should be avoided at all costs. Keep the camera level. It may sound obvious, but in a room with different angled walls, finding the horizontal line can be deceptive.
What is photography to you?
RM: At best, good photography is storytelling, and even amateur photographers should be aware of this. Take what I call 'a frame within a frame within a frame' (below).  Every element, every detail tells its own story, right down to the design of this curtain's tie-back. Shots such as this, are seductively voyeuristic; they heighten curiosity and trigger positive viewer reaction.
Other shots are more obvious but equally important. There's an effective and ineffective way of capturing a bed for example. Not only has this room been styled and removed of clutter, but the angle shows the dimension and scale of the entire room. And communicates that there is indeed an en-suite without saying a word.
How do the needs of real estate consultants differ from guest house owners?
Not that much, but there is a difference. Guesthouse and Airbnb owners welcome an aesthetic composition, art often for art's sake. Essentially, a dream is on offer and creative lighting and compositions are what create an emotional impact.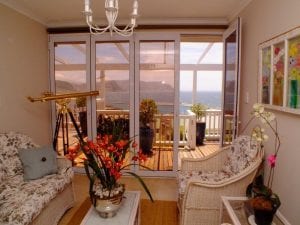 Estate agents, on the other hand, need to reveal space, often from more pragmatic perspectives. For example, a buyer might wish to see how the main lounge opens onto the veranda and flows on to the pool area. Here we're looking at a long-term lifestyle investment, not an overnight stay.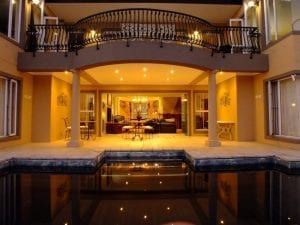 Do you use different lenses for different areas?
RM: Yes I do. Wide angles are commonly used for interiors but are only flattering up to a point, after which it becomes deceptive. There exists a fine line between optimising visual impact and distorting reality. Hopefully, a client will enter a room and say "Wow!"  Not exclaim "But this is not what I saw in your brochure!"
What about lighting, do you bring your own, or do you use available light?
RM: Creative control of lighting is what a photographer does, and he or she will make use of the full spectrum of lighting options. I find using a powerful, intelligent flash or speedlight works well, especially when combined with natural light. I think it's really important to always include the existing ambient light, for instance, the warm lighting from a lamp and not to allow your artificial light to over-ride that. Also, it's important to balance the interior with the brighter exterior light as seen through windows and doorways. If one fails to do this, exterior scenes are easily lost to over-exposure, especially if one sets the camera to Auto. The manual setting gives you full control over the lighting. Ideally, the interior light should balance the exterior light. The eye initially takes in room details (often lit by flash), after which it is led out through the window to green trees, distant mountains, and blue skies. Such lighting balance allows interior and exterior images to merge and flow into one uninterrupted visual experience.
It seems that many creative opportunities exist when one enters a room, even a bathroom. Do mirrors give you headaches?
RM: No, not at all!  I particularly love the multiplication aspect of mirrors. For example, by careful camera positioning, a wall mirror (below) doubles as an extra 'window', adding a new, yet valid dimension to the room.
Do different rooms present different creative challenges to you? For example, a dining room compared to a bedroom?
RM: Yes, some shots, such as a winter breakfast scene (below), require careful setting up and timing. This is exactly what a guest might see, immediately before sitting down to enjoy breakfast. By adopting his or her point of view, he or she participates more intimately in the visual space. Detailed table shots require different compositions.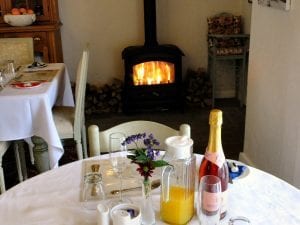 What should a real estate consultant do, before photography begins?
RM: Preparation for the project requires minimal effort, but the owner or estate agent needs to be prepared. Besides strategically placed vases or flowers (fresh or silk), the owner would do well to ensure that unsightly wires are concealed, towels folded neatly etc.  If not, any photographer with creative integrity would feel compelled to do this, all of which takes time.
Curtains, wires or even flowers are known to misbehave, so small bits of Prestick or tape can be useful in fine-tuning the scene. Windows naturally draw the eye to the exterior.  Clean window glass is therefore imperative, as windows are an inevitable extension of the lens. All mirrors need to be spotless. Especially in tight spaces such as bathrooms, where creative use of reflections can create aesthetically pleasing, multi-layered visuals. Gardens need to be groomed, pools cleaned, and the surroundings made neat. The eye of the customer doesn't miss a thing.
How long do you take to create a photographic portfolio of a property?
RM: Depending on the number of rooms or size of establishment, to create a photographic portfolio can take a full day, on and off. At least that's how I like to work, as this allows for maximum creativity with minimum stress.
A full day not only enables the photographer to capture the morning and evening light, but also allows guests to vacate, and rooms to be restored to their pristine condition. This might include clean towels, fresh flowers, curtains tied back, beds trimmed, carpets vacuumed, cushions and rugs straightened, and all wall hanging leveled. For smaller establishments such as Airbnb's, a full day is not needed, and an hourly rate will suffice.
If they wish to outsource the job, how does a real estate consultant or guesthouse owner select a photographer?
RM: It's a good idea to meet a few photographers before making a decision. If a photographer is passionate about his or her craft, you will sense this immediately. Looking at their previous work or asking previous clients for comment will give you further reassurance.
Roger Metcalfe is an award-winning journalist, photographer, and filmmaker specializing in the environment, technology and medicine. He is the recipient of the SA National Cancer Association's Award for Enterprising Journalism for nationally televised documentaries (MRI & Breast Cancer). Roger has written over 50 magazine articles, been interviewed on radio, is an ex-diplomat and former Council Member of the Writers Guild of SA. He is a full member of SAFREA, the SA Freelancers Association. He recently graduated with a Postgraduate Diploma in the [Filmic] Arts.
Although his website is under construction, Roger is happy to correspond at roger@global.co.za. His mobile contact is 082 456 4233.
If you are considering selling, buying or letting your home, we recommend contacting Pam Golding Properties to find out more about your area and to obtain professional advice or a valuation.