Quadrant Gardens, now open, offers independent living in a prime location
Soothing green hues and elegant décor usher you into what feels more like a luxury resort, than a retirement development. A smiling concierge welcomes you to Quadrant Gardens, an oasis for those wanting to enjoy their golden years in a beautiful setting that offers a choice of amenities and activities. Walking through the plush lounge, listening to the vibrant chatter of residents enjoying a delicious meal in the stylish dining room, one abandons all notions of traditional retirement living.
Epitomising the concept of luxury retirement, Quadrant Gardens offers retirees the best of both worlds by combining Cape Town's unparalleled suburban beauty with the convenience of inner city living. It has been designed for the over-60s, and consists of 74 spacious Life Right apartments intended for independent living, while offering residents tailor-made care plans. Each unit is fitted with an emergency call button for immediate care assistance, and an onsite 18-bed care centre, with two sick bays, will be available for those who require 24-hour care.
"Given the limited availability of lifestyle retirement options in the Southern Suburbs, as well as long waiting lists at existing retirement villages, it's no surprise that 24 apartments (almost a third) in Quadrant Gardens have already been sold," says Bev Bloch, manager of Pam Golding Properties' specialised Southern Suburbs retirement sale team marketing this unique development. "There has been a strong demand for the luxury units, since the development launched, and we expect that the completion of the scheme will further fuel interest." One of the biggest draw cards is that there is no waiting period for those wanting to move in immediately, adds Bloch. Pam Golding Properties has already sold R75 million worth of stock. "We have had queries from all over Cape Town, particularly the Southern Suburbs as many want to retire in a community and area they already know, as well as from Gauteng, Pretoria and KwaZulu-Natal."
Offering exceptional design, a convenient location close to Cavendish Shopping Centre and Claremont's medical precinct, as well as opportunities for an active lifestyle, Quadrant Gardens is set to be the ultimate in retirement accommodation in the Southern Suburbs, says Bloch. "This part of Claremont has become a wellness hub, with an array of medical professionals, 44 specialists as well as excellent health facilities in the area. Residents will also have access to the 25-metre heated pool at adjacent The Quadrant complex.
Popular restaurants, such as A Tavola Authentic Italian Restaurant, and attractions such as the Arderne Gardens, are within walking distance. Bloch adds that security, well as the added peace of mind associated with on-site care support, coupled with accommodation of a high standard and in a prime location, are high on the list of needs for all retirees these days."
Facilities at Quadrant Gardens include a discreet, full-service concierge desk, an upmarket coffee bar and restaurant and a rooftop garden with panoramic views providing the ideal setting for a game of croquet.
The library has a collection of international books of interest and leading from this peaceful space is an "urban forest" feature, ideal for the nature lover. Each apartment has full-spectrum Wi-Fi and telephone connectivity, a walk-in shower with comfort facilities and a beautifully-appointed kitchen with Italian-designed cabinetry and quartz-stoned worktops. There will be complimentary laundry services and apartments will be serviced, at a cost.
The management of Quadrant Gardens, as well as all services, are provided by the Cape Peninsula Organisation for the Aged (CPOA), which has more than 65 years' experience in the retirement market. Adam Munga, the CPOA manager at the helm of Quadrant Gardens, has many years of operational experience in hospitality, making him ideally suited to the management of an upmarket, urban retirement residence.
He has been with the CPOA for more than three years and has been pivotal in the opening of this landmark residence. Adam is welcoming and passionate about providing the best quality of service to ensure the wellbeing and comfort of all residents. "From the day you walk in, you become a part of the CPOA family where we take care of your every need."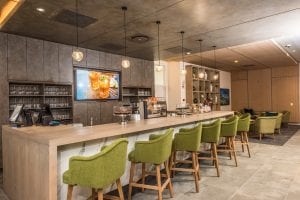 Quadrant Gardens is so much more than just stylish retirement accommodation. It is a place filled with warmth and managed by professionals who really care about the residents, whether they are living in their own apartment, or in the comfortable care centre where Sister Carryn Boden is in charge.
As nursing manager, Sister Carryn's compassion and empathy is palpable. Her eyes light up as she talks about the residents in her care. "Since joining the retirement care industry, I have realised the deep compassion that I feel towards the aged and their families. At Quadrant Gardens we aim to provide excellent care within a homely environment, allowing our residents to retain their dignity at all times."
For more on Quadrant Gardens, contact Bev Bloch: 083 252 2594 or Lee-Ann Trout: 072 135 2051