Business tourism drives this residential property market
The message is out – Cape Town is open for business, and with tourism numbers expected to climb to 21 million by 2030, mixed-use residential developments offering exceptional accommodation are in high demand, says Pam Golding Properties.
Business tourism in particular has led to a growing need for flexible corporate accommodation, according to PriceWaterhouseCoopers' Hospitality Outlook for 2015-2019, where travellers can stay in serviced apartments close to the city centre or conference facilities.
"Cape Town has been named Africa's best business tourism city, so it's not surprising that developments such as the Waterfront Marina, Harbour Bridge and Canal Quays are doing so well. Not only do these apartments enjoy excellent security; they are also well placed within walking distance of Cape Town's financial hub, the Cape Town International Convention Centre (CTICC), as well as the V&A Waterfront which is recognized as Africa's most visited tourist destination," says Mariël Burger, Pam Golding Properties area specialist for Mouille Point, the Waterfront and the Foreshore. "With occupancy rates of at least 95%, these apartments offer excellent returns on investment."
Burger adds: "With the expansion of the CTICC attracting thousands of local and international delegates to even more events, the demand for accommodation in this captive market likely to increase. As such, the short-term let segment of this property market is impervious to many of the challenges being experienced elsewhere. Also, with the relocation of many blue-chip companies such as Allan Gray and British American Tobacco, there's been a growing demand for corporate accommodation in the area.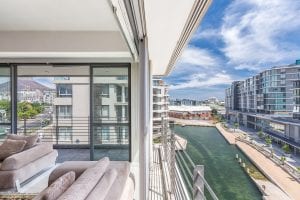 The rental projection for a one-bedroom apartment in Canal Quays, conveniently located adjacent to the CTICC, is up to R2 500 a night during peak season, and between R1 300 and R1 400 during winter. "These apartments are popular with business tourists and delegates attending conferences nearby. They can walk to the CTICC, while their families are able to travel around the city to visit Cape Town's many tourist attractions," says Burger.
Buoyed by the success of their initial investment, buyers will often consider a second or third unit in the same development. Film crews are particularly drawn to apartments at The Marina and Canal Quays, says Burger and daily rentals of about R4 400 are possible during peak season, says Burger.
"Short-term accommodation close to the city centre, Foreshore and Waterfront offers a good investment product. These apartments are conveniently located; with easy pedestrian access to nearby attractions and amenities," says Burger. Features that add to their appeal include a concierge and excellent security. The apartments also serviced daily. "Body corporates welcome short-term lets as the desire to keep an apartment occupied means that they are usually exceptionally well-maintained."
"This particular segment of the property market is dependent on tourism, rather than other market factors," says Burger. Cape Town Tourism projects that the value of the cruise tourism industry alone, from 2017 until 2027, is estimated to be about R220 million.
Cape Town's municipality has made it a priority to establish Cape Town as the go-to city for business, trade and tourism, says James Vos, mayoral committee member for economic opportunities and assets management for the City of Cape Town.
For more information, contact Paul Levy: 083 300 3001, Mariël Burger: 082 372 2573 or Kim Bailey: 083 448 2632